A positive commemoration of the power of humanity
On November 9, 2019, AAAFRESH123 will open the exhibition "De Kleur is Terug" in their studio at the Zaagmolenkade in Rotterdam. "De Kleur is Terug" tells a positive story about the darkness of war: the realization that after war a person can bring the color of life back, wherever in the world. A positive memorial to the power of humanity. Artists Hans Kleinjan, Maikel Kleinjan, and Roderik Faasen are working together with the Spanish steel artist Toni Mari during this exhibition.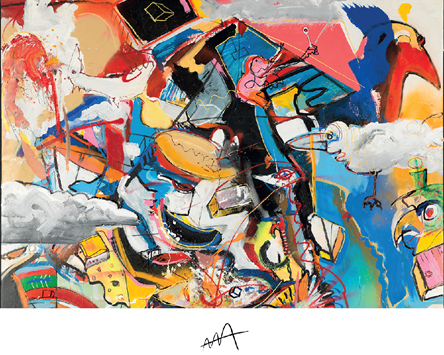 The Color is Back
In May 2020, it is eighty years ago that Rotterdam was bombed by the Germans. Many beautiful buildings from the city center were destroyed. For years the artists of the art collective AAAFRESH123 took old Rotterdam as a source of inspiration for many of their painting. The reconstruction appeals to the imagination while walking through the port city, but sometimes the cityscape is still a little disappointing. Yet you get the feeling that the city is going to shine more and more.
During the exhibition "De Kleur is Terug", AAAFRESH123 presents an art object that will be placed in the outdoor space next year. In collaboration with the Spanish steel artist Toni Mari, AAAFRESH123 makes artwork that reflects on the harsh reality of the violence that has destroyed old Rotterdam. This work of art will act as a symbol of the perseverance that was required to make the city shine again. In addition to the new art object, a range of paintings can be seen that the artist trio made in the past year. The artists are very involved with Rotterdam and therefore feel part of the strong growth that the city has experienced in recent years. This feeling is reflected in various paintings.
About AAAFRESH123
Artists Hans Kleinjan (1958), Maikel Kleinjan (1984) and Roderik Faasen (1990) brushed their heads in their studio in the Old North of Rotterdam. Their meeting in 2008 turned out to be a "match made in heaven". Their work is now hanging all over the world; from a chic villa in New York to a bungalow in the Amazon. They have also exhibited in Milan, Antwerp, and London. They also painted live during events, such as the North Sea Jazz Festival and the MTV Awards. The majority of the paintings are made by the three of them together, resulting in surprising and especially colorful artworks.
More information about the exhibition 'De Kleur is Terug' and AAAFRESH123
Date: November 9, 2019
Time: 5 p.m. – 11 p.m.
Address: Zaagmolenkade 123/124, 3035 KD Rotterdam
Email: info@aaafresh123.com
Instagram: https://www.instagram.com/aaafresh123/
Website: http://www.aaafresh123.com/