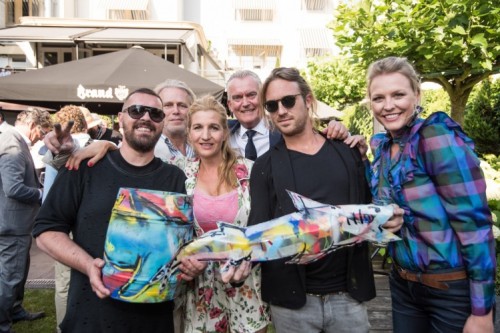 In the courtyard of the Bilderberg Parkhotel Erik de Wit, director Bilderberg Parkhotel Rotterdam and Clarissa Slingerland, director MissPublicity and Businesswoman Rotterdam 2017, presented the painted herring bar to the world-famous artist. They continue the tradition to give the annual herring party more color and to draw attention to Rotterdammers who mean a lot to the city. In addition to a large number of business relations, Rotterdam icons such as party guru Ted Langenbach, writer Jules Deelder and designer Margreet Olsthoorn were present at the festive party.
Artful keg
During the busy herring party the very first New Herring was tasted. Erik van Loo (Restaurant Parkheuvel **) and Richard de Vries (Chef The Park) also surprised the guests with various preparations of herring. The successful and cozy herring party was made possible for the second time in a row by Schmidt Zeevis.
The herring keg was this year live painted by artist collective AAAFRESH123, consisting of Hans Kleinjan, Roderik Faasen (RoFa), and Maikel Kleinjan. The work of these three artists is often realized together and can be seen in various galleries and at various exhibitions in Europe. At the Zaagmolenkade in hip Rotterdam Noord, AAAFRESH123 has its own gallery. "With the location of the Bilderberg Parkhotel, in the middle of the museum quarter of Rotterdam, art is an important pillar for us. That is precisely why we like it so much that we have this well-known Rotterdam artists' collective in house today, and they have transformed the keg into a beautiful work of art ". Thus Erik de Wit, director Bilderberg Parkhotel Rotterdam.
Speedy J
Jochem Paap received the artwork, among other things, for his great influence on the Dutch and international music industry. Clarissa Slingerland: 'Jochem Paap has meant a great deal to the city and, thanks to his music, reaching far beyond the national borders, he is able to draw Rotterdam to the attention of the Netherlands and abroad. Jochem keeps our city vibrant and keeps innovating as a producer and artist. With his recently opened creative space in the Baankwartier, he brings large, international names to Rotterdam and gives talent the opportunity to develop musically. '
Under the name Speedy J, Jochem Paap gained international fame in the nineties with the hits 'Pullover' and 'Something For Your Mind'. For over twenty years he has been touring around the world as a DJ to perform at major festivals. 'Pullover' was named the most important Dutch dance issue in 2014 by journalist Mark van Bergen. Two years later he was the first DJ to win the Emmy Ameling Prize, awarded to creative talent that makes an important contribution to the Rijnmond area in the field of music. Besides being an enthusiastic DJ Jochem Paap is producer and sound designer and he makes music for films and commercials among others. His own platform, event organization and record label Electric Deluxe also exists this year for 10 years.
"Jochem Paap has meant a great deal to the city and, thanks to his music, reaching far beyond the national borders, he is able to draw Rotterdam to the attention of the Netherlands and abroad. Jochem keeps our city vibrant and keeps innovating as a producer and artist. With his recently opened creative space in the Baankwartier, he brings large, international names to Rotterdam and gives talent the opportunity to develop musically."  Clarissa Slingerland, owner MissPublicity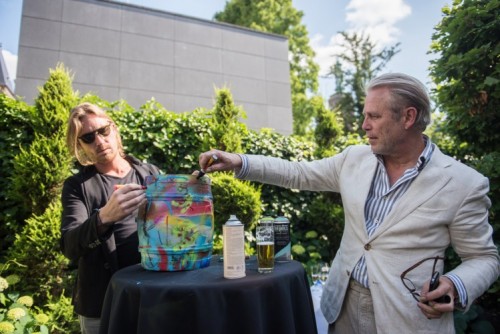 Complete (Dutch) Press Release can be found on the MissPublicity Pressroom